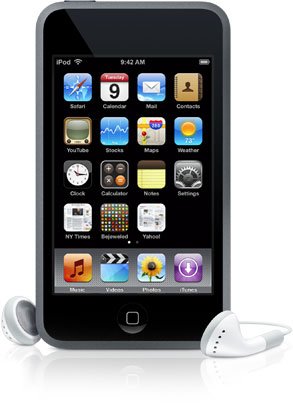 I've made a very important decision; I am going to buy an iPod Touch soon!! I currently own a desktop computer and I spend a lot of time online, this equals a lot of time spent at my desk, and this equals me getting really tired of sitting on a once comfortable chair and once modern desk. With the newest iPod touch (Apple calls it a pocket computer) I can do most of my online stuff, plus play some really great games and use it to cart my music around. Since I have Wi-Fi all through my apartment, I can do all of these things away from my desk. I could purchase a smartphone to meet my needs, but they are damn expensive. For my uses, one would probably cost me ~$100/month which is too much for a laboratory instructor paying off student loans.
I plan on purchasing the 32 GB iPod touch since this version has more features than the 8 GB and 16GB, most important is
OpenGL graphic support which will be very important for future iPod Touch games. The cheapest price I could find online is
futureshop, $298.99 + tax
.
How am I going to finance this? I currently own a 3rd Gen iPod nano, this will be hopefully sold on eBay, and suprisingly,
I should be able to get ~$140 for it
. So all I have to do is come up with another $200 and it'll be mine, woo hoo!! How am I going to get the remaining $200? That part I'm still working on....